by Derek Berry
Texas Crude, the debut short story collection by Thomas Kearnes, offers an intimate portrait of gay lives in East Texas. In equal measures erotic, heartbreaking, and rousing, the collection invites us into his characters' inner lives, whether they be tricking in college dorm rooms, cruising rural bathhouses, or acclimating to a new social scene. It is refreshing to read a book that reflects the life of rural gay men, when so often gay literature has been populated by urban, affluent characters: here you will not find the sculpted beach bodies of Fire Island nor the sensitive artist-types of Hanya Yanagihara's A Little Life or Rebecca Makkai's The Great Believers (both great books in their own right, but representative of a particularly city-centric gay lifestyle). Instead, the erratic and hilarious and sad characters who populate Kearnes's stories are lonely and poor, sick and addicted, southern and down-on-their-luck; they're representative of a more common and less represented gay experience.
Not every story sings, some overly long and wearing out their welcome, but when Kearnes hits the mark, he achieves a delicate balance of deft plot and emotional clarity that plunges you into the depths of a life; when you emerge at the story's end, you are a little out of breath. In the collection's opening salvo "Here Comes the Tricky Part," a lonely prostitute worries he has helped get a young college student become addicted to meth, deepening what might have otherwise been a story of mere raunch. In another early story "Kiss Me and Know My Sorrow," we are introduced into the small-town gay scene; Kearnes depicts the anxiety and pettiness, as well as the communal uplifting, of rural gay men. We witness how queer identity does not necessarily supersede small town cliquishness nor masculine violence.
Kearnes does not either shy away from the realities of such a community, in which feminine men and men of color are often excluded in favor of the hypermasculine. In a later story "Crackhead Clint Will See You Now," we glimpse the cruelty borne out of such hegemony, what happens when to belong means to exclude those who do not. Toward the end of the collection, we revisit familiar characters, who return in new lives, some still trapped in cycles of substance abuse, failed relationships, and sickness. The stories also explore the realities of living HIV-positive, though the stories do not succumb to the common mistake of defining gay men solely by their relationship to AIDS. The author does not, with these stories, fall into the trap of stereotype or imagined utopia; these stories feel fresh, raw, and true.
These stories too are frank about sex. I suspect many readers might be turned off by scenes they might view as pornographic, but these scenes, their commitment to writing sex as sex, not turning away or drawing a curtain across the window as two lovers gently touch, is admirable. Too long depictions of gay sex have existed as negative space, as suggestion off-age: the almost-sex-scenes of films like Call Me By Your Name or the sanitized non-erotic gay romance of Love, Simon. Often the extent of homosexuality in stories about homosexuals amounts to chaste kissing and breathless confessions of heteronormative love; this is not so in Texas Crude, where sex and romance and love become intermingled, where sex is not always romantic or perfect or comfortable. Kearnes follows, and advances, a tradition of queer literature. This tradition has been recently populated by writers such as Garth Greenwell, whose 2016 novel What Belongs to You offers a bold glimpse into the fraught relationship of two men in Eastern Europe, and Ocean Vuong, whose recently released 2019 novel On Earth We're Briefly Gorgeous in part tracks the budding relationship of two closeted gay men in a rural setting. This is not to imply that the stories herein are smut or pornography, only that Kearnes acknowledges how gay sex is integral to the lives of gay characters.
Texas Crude is a solid debut that displays not only Kearnes' nimble prose and capable storytelling, but also a deep-felt humanity. This author eschews common gay fiction clichés for an exploration of the real.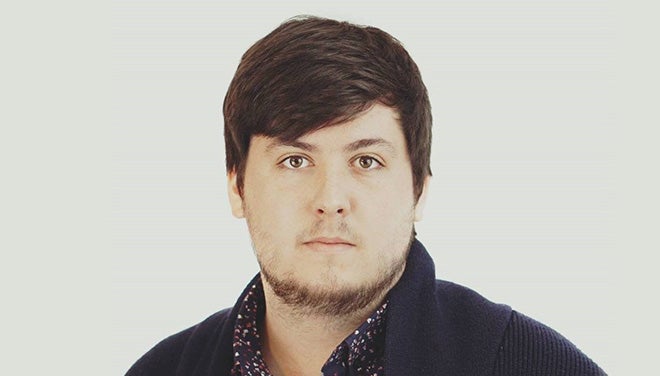 Derek Berry is the author of the novel "Heathens & Liars of Lickskillet County" (PRA, 2016). They are the recipient of the Emrys Poetry Prize, KAKALAK Poetry Award, & Broad River Prize for Prose. Their recent work has appeared in Gigantic Sequins, Beloit Poetry Journal, Yemassee, Taco Bell Quarterly, & elsewhere. They live in Aiken, South Carolina, where they work at a Cold War Historic Curation Facility. Their work can be found at derekberrywriter.com