A book review by Derek Berry
To read Jason Gordon's debut poetry collection "many appetites" feels similar to having a conversation with a close friend after he has consumed five grams of psychedelic mushrooms. When we enter through the door of a fresh poem, we find ourselves in an unfamiliar room. A space in which the rules of understood reality have been bent, have Dali-clock-melted to make way for some new imaginary world, one in which "you eat a peach/ with a fork made of blood." Every mirror is shattered, every angel is also demonic, and every person wavers between consciousness, between the time before they were born and the time after they have died. "Many appetites" is in one sense a collection of tightly-coiled poems, brief missives from Wonderland, but the book too serves as a kind of dissolving map, a guide of nonsense for nonsensical times, an absurd Rosetta Stone that might help us translate the chaos of an atrophying world.
Gordon's poems operate in the surrealist tradition, echoing the works of Octavio Paz, James Tate, and Anis Mojgani. At turns magical, cynical, and imaginative, these poems plunge us into a phantasmagoric dream, a wavering reflection of ordinary life. As quarantine extends its reign, as time warps and loses meaning, as days blend together like rain drops in a pond, it is tempting to turn toward an antithesis of sense, to embrace, by instinct or desperation, that which defies narrative. Gordon offers us instead comfort in our chaos.
A poem often begins with a simple statement, such as in Gordon's poem "I Can't Sleep, I'm Becoming"— what begins as a bout of insomnia becomes instead of a poem about "becoming an owl, an owl with moon-eyes/ an owl who eats pizza for breakfast," the subsequent lines unraveling further from there. By any poem's end, we have washed ashore somewhere new and unrecognizable; we have in just a few short lines disassembled reality like "the cuckoo clock/ in its nest of brass twigs." It is difficult, in this parade through strange imagery, to decipher any kind of narrative. This is not a failing; Gordon isn't trying to tell a narrative with these poems. The poems are congealed not by a storyline but rather by their aesthetic tendencies. Certain subjects, however, do reappear through the book— visions of angels, the specter of death, the domain of dreams, looming depression, possible alcoholism, and the constant reconfiguration of reality.
Although the collection rejects an easily divulged narrative, certain poems verge on confession. In a later section of the book called "Fragile Little World," the poems' speaker tells us a little about life at home— the tension about work between a married couple, the speaker's relationship with the local paperboy. It does not matter if details are autobiographical— these poems star a man at odds with the world, awkward in personal and social relationships, a human alienated from the what-is.
Gordon's collection ends with a long poem called "lost in st. texas," a strange romp through personal and cosmic confusions reminiscent of how Allen Ginsberg might have written "Howl" if he had been born in a Texan suburb in early 90s. Even among the mundane, Gordon finds something miraculous or terrifying, the rifts where the universe cracks open and lets us in on its secret chaos. Gordon writes "I want to believe/ that life isn't not boring," and here we find the opposite of a boring life, a world Gordon populates with wild, colorful, and lyrical visions.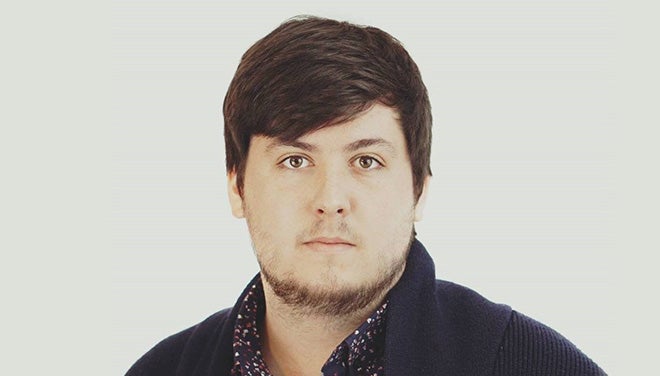 Derek Berry is the author of the novel "Heathens & Liars of Lickskillet County" (PRA, 2016). They are the recipient of the Emrys Poetry Prize, KAKALAK Poetry Award, & Broad River Prize for Prose. Their recent work has appeared in Gigantic Sequins, Beloit Poetry Journal, Yemassee, Taco Bell Quarterly, & elsewhere. They live in Aiken, South Carolina, where they work at a Cold War Historic Curation Facility. Their work can be found at derekberrywriter.com