GUTTER SPREAD GUIDE TO PRAYER, by Eric Tran
(2020 Autumn House Press, Pittsburgh, PA, 62 pages, $16.95, ISBN: 978-1-938769-51-1)
Reviewed by
Derek Berry
Eric Tran's debut poetry collection The Gutter Spread Guide to Prayer, winner of the 2019 Autumn House Rising Writer's Prize, is a feat of imagination and daring. Tran maps grief and sexuality with bold confession and formal ingenuity. His circuity of cultural and historical allusions operates in a tradition of pop culture poetics–a funhouse mirror maze of references. The Gutter Spread Guide to Prayer might also be a kind of literary biography of the poet's adolescence. Despite the accessibility of the texts mentioned— comic books, the Harry Potter series, Mad Max: Fury Road— there's a complexity to the structure of these poems that illuminates Tran's inventive and empathetic voice.
Tran's mode of confession is not so stark as that of the confessional poets. It's a more playful tease, like that a burlesque dancer. His poem "Revisions," wishes to undo memories of a lost friend or lover, in hopes that such time reversal might reverse too an unnamed tragedy, that the mentioned figure in the poem might "startle and wake." The speaker reveals concrete moments, memories, through negation while still shading the origin of regret. In "Portrait in Pleather Tee," Tran barrages the reader with couplets, glimpses of joy and regret and embarrassment, as if to tell us "yes, you can peek through the part in the curtain to spy on the gay men, but no, I won't tell you too much, no you cannot judge us more than we judge ourselves, no you cannot own this memory; this is just a peep show, babe, put in another quarter." Gutter Spread edges close to a poetry of camp— a performance that is both serious and unserious, and seriously unserious, a tease that brings you into the room only to sucker punch you with the reality of grief. Tran's language too is lithe, musical, and often flirting with with indulgence, a quality more poets should adopt (indulgence in language, after all, might be a kind of queer beatitude, to borrow Garth Greenwell's phrase, a writing against the boring minimalism of the the late 20th century, wherein expression is shaved into what is only necessary).
Tran's poems are not, however, a light romp. Even in their most playful moments, they speak to loss, longing, and risk. Early in the collection, Tran includes a poem titled "Days after Orlando, I Read the X-Men," in which he muses about his relationship to comic book narratives in relation to the tragedy of the Pulse Nightclub shooting. Tran writes that the X-Men, the mutant team of students lead by Professor Xavier, "tried paradise once," a utopia reclaimed from a dangerous, oppressive space and made into something better, only to be then ruined despite the "sugarglass promise" of safety. For queer folks, safety is never guaranteed. There will always be an army of sentinels, a cosmic bullet, a gunman, a mutter behind you when you're holding hands with your boyfriend on a day lit street. Safe, of course, is just one kind of queerly perfect place, a queer "no place"; Tran's poems seem to reflect ideas explored Jose Munoz's book Cruising Utopia, in which Munoz writes, "Queerness is not yet here. Queerness is an ideality. Put another way, we are not yet queer. We may never touch queerness, but we can feel it as the warm illumination of a horizon imbued with potentiality." In that future utopia, are we safe? In that future utopia, what might queerness look like except, as Tran describes "redder still." Is there a world, Tran asks, in which violence against queer people doesn't exist?
Tran's commitment to bringing pop culture echoes his commitment to using "low culture" to illustrate complex ideas. Poems create a framework of identity, which feels like an especially millennial construction; in fact, Gutter Spread is a quintessentially millennial book. Who else, except the millennial intellectual, includes references to both Orpheus and Dungeons and Dragons? I'm not certain what scholarship has been written about "millennial poetics," but I think including a network of contemporary references is a pillar of that evolving tradition. What, after all, makes Greek myths, Bible stories, Romantic poems and nursery rhymes more appropriate allusions than Amadeus Cho, the Totally Awesome Hulk? Tran's poems rely on the reader to know something about the Harry Potter series, to have seen Mad Max: Fury Road, to be familiar with Mister Miracle, the Marvel comic book hero, in the same way Seamus Heaney expects readers to know Aeschylus' Orestia to navigate his collection The Spirit Level. Who but millennials, with our memes requiring past knowledge of twenty previous memes, might write books of poems that reference so wildly the landscape of our own media? The older writer Barrett Warner once advised me to never refer to "pop culture" or "brand names" in poems or stories, because they might age those literary works, nail them to the era in which they were composed. But surely you've read Dante's The Inferno? The work of Shakespeare? T.S. Eliot? Writers who also reflected the culture of their lived experience. I am curious about what the next generation poets will bring, in terms of reference. Poets including Morgan Parker (her Beyoncé poems) and Collette Arrand (who wrote an online chapbook of Pokemon essays) come to mind. I must also nod to the excellent literary journal FreezeRay Poetry, which features pop-culture-inspired literary works that often carry real-world implications. We spend so much of our lives consuming media, so why should art not reflect that media as well? These shared stories become connective tissue that sutures our lives, that mold our identities (inside jokes, remembered dialogue, pop culture affiliation). I understand Tran's references only because I've been steeped in the same culture— comics culture, nerd culture, gay culture— which serves as the lingua franca of his work. Poets never complain about references in poems to Icarus or America's favorite superhero Jesus Christ, but somehow Captain America is off-limits?
Tran's primary pop culture influences, evidenced by the collection's title, are comic books. This too is a tradition Tran continues, following in the Hulk-sized footsteps of poets like Paul Beatty, Bryan Dietrich, and Gary Jackson. While poets like Gary Jackson in Missing You, Metropolis assume the persona of the superhero, though these monologues are warped through our own too-real reality, Tran takes a more distant perspective, writing instead about his own relation to comics rather than about the comics themselves. He is not writing about the world of superheroes as a means of exploring our own, but rather writing about our world, our relation to the stories we produce. As if Tran is performing surgeries on these Uber-narratives of super-heroism, except— as the best poets do— leaving the bodies in the end still blood-messy. This relationship with the superhero genre is most evident in a series of poems subtitled "Lectio Divina." In these poems, Tran applies the Biblical interpretation method of lectio divina, a slow and deep contemplation of religious text, to comic book arcs, including those of Vision, Emma Frost aka the White Queen, and even Hektor the Assassin (not a superhero, arguably not a hero) from Brian K. Vaughn's heartbreaking series Saga. This form allows Tran to treat the comics as religious text, the poems framing four readings of the comic— narrative, allegory, personal reflection, and invitation (inviting the text to, as Rilke demands, "change your life"). This form bridges the sacred to the pulp, the camp-drama of comics to biblical text, as if to ask "why should only one of these works deserve close inspection?" This form is doubly complicated by its borrowing of the practice not from ancient spiritual practitioners but rather contemporary podcasters (in this case, the hosts of the podcast Harry Potter and the Sacred Text, which provides the same kind of examination of the fantasy series). Every story we hear, every story we tell, is somehow too a story about us: "I look to poetry for grief," Tran writes, "See how words will collapse into meaning?"
Eric Tran is not afraid of inventing or reworking a form. In recent memory, several traditional forms have revisited their time in the limelight: the perennially beloved sonnet, the cyclical sestina, and spare haiku. Tran's formal inventions expand beyond this traditional scope to marry form with the resonance of the pop culture media referenced. "Regrets, in the Style of Clue" borrows language from the answer to the question, "Who killed Mr. Boddy?": "Your ex at Home Depot with the mower / blades and your cutoff jeans, or a mom / in the dark garage, her face blossomed / plum, or a teen at clinic and his chipped / pink polish." Tran is constantly rearranging language and narrative to show the reader something new about media we thought we knew well. These forms work best when they create through their references a kind of resonance that extends beyond the text: "Hermione Granger and the Reciprocal Erasure" provides an erasure poem that I frankly cannot parse, an erasure poem to which I cannot identify the original text, but maybe that anonymity elevates the erasure. Is this text dialogue from Hermione? Is this a poem that Tran has partially obscured? In the novel Harry Potter and the Deathly Hallows, Hermoine Granger admits to performing the Obliviate charm on her parents, which erases their memory of their daughter; like Hermoine's parents, the poem's reader is left with gaps in their understanding, a blank space where sense or loss might have been. This reference to the magic of forgetting brings the reader other resonances: for me, I think of the machinery of forgetting in Eternal Sunshine of the Spotless Mind, the machinery of forgetting that accompanies grief, how each memory becomes distorted when remembered— a landscape we paint over with new coats of color, textures— until the memory is not recognizable. Is that what Hermoine's parents felt, a misplaced grief they could not name, a loss of a daughter they had forgotten all but the edges of? In poems about loss, that's the best we can hope for— the vague outline of what is missing.
The Gutter Spread Guide to Prayer is a book ultimately about grief, what grief violently erases through the act of remembering. Even the composition of a poem— the cementing of a memory into lines that are published— is a kind of memory-making, in that it excludes every version of that memory not written, not published. This idea might be best represented in the ekphrastic poem "Untitled (Portrait of Ross in L.A.): Mixed Material: Feliz Gonzales-Torres: 1991," which refers to an art installation by the same name which includes a mound of wrapped candies. The gallery visitor is invited to take and consume the wrapped candies, the weight of which represents the diminishing mass of "Ross," the artist's now-dead lover, for whom AIDS provided its own slow, painful reduction. The installation is meant to mimic what AIDs does to the human body, slowly destroy it until it has disappeared. In his ekphrastic poem, Tran offers us only half a poem, the fragments of a text that remain after erasure, as if teasing us with the joy and genius the poem might have offered, the joy and genius that every person who has ever died from AIDs might have offered. It is difficult for me to think of the work of Felix Gonzales-Torres without imaging what we've lost, and this poem, its unfinished nature, strikes the same tone. "No," Tran seems to tell us, "there might have once been a full-bodied poem here, but no more." We are left instead holding only "straw and kindling."
Poets love to talk about white space, the words that exist on the page even when they don't, the synapse-stumble of one line broken to the next line. Tran offers us a tour through the gutters, the hollow blank that occurs between comic panels, between one mode of experience and another, between life and what comes after. Poetry, like grief, can often feel like something too difficult to fully articulate to someone else, until they too experience it. Experience Tran's work, and you too can "break the book's spine / like a tangerine— thumbs / first, a quiet, lasting / hiss, then all that / sweet and sting."
Eric Tran is from San Francisco Bay Area and currently lives in Asheville, North Carolina. He is the author of the Gutter Spread Guide to Prayer (Autumn House Press, 2020) and the chapbooks Revisions (Sibling Rivalry Press, 2018) and Affairs with Men in Suits (Backbone Press, 2014). His work appears in Iowa Review, 32 Poems, Pleiades, Missouri Review Poem of the Week, has been reprinted in Poetry Daily and Best of the Net, and has received recognition from New Delta Review, Indiana Review, and Tinderbox Poetry. He is on staff at Orison Press. He is a resident physician in psychiatry at the Mountain Area Health Education Center. He graduated from the University from North Carolina Chapel Hill School of Medicine, where he received the Alan C. Cross Award and the Heusner Pupil Award. He holds an MPH from UNC Chapel Hill and an MFA from UNC Wilmington.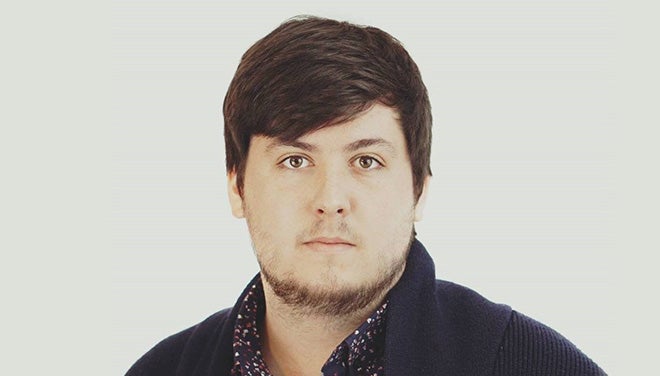 Derek Berry is the author of the novel "Heathens & Liars of Lickskillet County" (PRA, 2016). They are the recipient of the Emrys Poetry Prize, KAKALAK Poetry Award, & Broad River Prize for Prose. Their recent work has appeared in Gigantic Sequins, Beloit Poetry Journal, Yemassee, Taco Bell Quarterly, & elsewhere. They live in Aiken, South Carolina, where they work at a Cold War Historic Curation Facility. Their work can be found at derekberrywriter.com.