Lopsided
I live in a world of my making. News reaches me
and crawls away to make space for more; a cat resides there, maybe
the ghost of my former cat, or a stray sleeping with my husband;
I prune plants in order to see the foldable cloud-filled sky; houses
transpose themselves, one on top of another, growing taller; people
and writing strum my emotions, searching; work is scattered, less
specific; I enjoy muddled dancing (ballet). In Seattle, rain is my
radio and the moon has fluttered elsewhere. A story is the only way
to make sense of the contradictions, the conflation of the best and
the worst.

Last night I dreamt about my familiar, tiny town, which I don't
believe exists, unless I've seen it one time, briefly, years ago. But it's
more likely an amalgamation of towns I've seen in my lifetime. This
ideal town is about ten blocks long with mediocre houses and a few
storefronts. Revisited in my dream, this half rural/half city is growing
rapidly, structures becoming larger and fatter, with a new gleam
to my dream town's sheen, which appears empty although I somehow
know all the houses are occupied.
My husband reminds me of what needs to be done daily and
what is waiting outside our front door. I become tired and isolated,
my eyes and ears weakening as I age. My friends and I wander through
Seattle streets and events, unsure what we're searching
for. Sometimes we fabricate a quest for dark chocolate or coffee or
tea, an excuse for discovering a play, film, or book or restaurant or
something specific like a visit to the Georgetown Steam Plant to see
industrial pipes and equipment or the Ferris wheel for a water view.
Do I long for someplace else because the outside world is unlike
my inside one? Is my inside world more peaceful? Outside moonlight
highlights tree branches and parts of buildings and wind steals
shadows, returning them as objects. Puddles ache for birds and feel
no pain when they arrive. Woods cough up leaves. People I trust
return again and again like former pets materializing refurbished.

Someone was lurching around a forest where trees slumped as they
thought about darkness. This man was seeking a fortune or a secret
or perhaps he had once hidden something from himself that he was
attempting to find. He circled until he found a spot where a fern
sprouted delicate green leaves and a rock collected declarations. He
began digging. He penetrated the gap between thinking about some-
thing and doing it and the one between what his life was and what
he thought it should be. He dug all the way to the other side of the
world.

A woman grew lopsided because of a man who had abandoned her.
Her desire for him pulled her body to one side. She limped. She
needed new scenery. She knew she would eventually have to make
room in herself for someone she didn't know yet. But first she decided
to try anything to get the man back since he was rapidly becoming
another one of her memories. She tried love potions, prayers, and
asking advice from friends who became tired of her insistences and
eventually stopped being her friend. Days passed. The woman felt
compelled into a deep ocean by small, tugging waves of emotion.
She toppled underwater one day at a beach. She died fighting with
water, replacing one thing with another.

When I first visited my husband's house, before he was my husband,
he had pinned a sign on his front door that said, "This is the place."
And many years later I know that it was.
Several months before, I had divorced my first husband, serv-
ing him papers at the restaurant he had started in Missoula, Mon-
tana. He had grown desperate for money, gambled, and liked drugs,
but he kissed me as if he was first meeting me every time. I had
grown anxious, dreaming I was naked and taking a test at school or
nervously trying to repair a broken watch. We had "irreconcilable
differences." There was sorrow, if not for the man, then for the dream
our marriage had represented.

Why move to Seattle? Life was slower, easier in Missoula, but
there I knew everyone I could date, a self-contained place rimmed
by puckered, snowy mountains whose inversions caused terrible
winter pollution. Seattle stroked me with rain, its views of attain-
able islands and abundance of foreign movies and books and plays.
Everything was larger, busier, and there I, hopefully, wouldn't mistake
sex, kindness, or neediness for love again.

Other worlds include:
a long illness you think you're done with but you're not
imitating a preventative marriage
strays that ask for little, with repeated disappearances
interruptions that belong somewhere else
costuming the heart
a murderous mouth close to an ear
jittery ghosts with ruined faces and recriminations
every blade of grass, every leaf
children purring with their small voices
stumbling toward the moon's gravitational bones.

Dreamtime involves totem symbols reminding Australian
aborigines that a person's ancestors accumulate all knowledge. And
everyone's ancestors are as one. Dreaming begins before a person
is born and continues after their lifetime. (Encyclopedia Britannica,
"The Dreaming," the Editors, 7/20/98).

Forces that deplete or enhance our worlds can move someplace
where our ghosts don't know where to find us, protecting our words
from others, a yellow bird alighting on snow, the breaking of stiff,
white china. Some days I need to rest and shore myself up for what
will arrive from the world I live in.

When I was a teenager, I had no interest in the older, wealthy
men who drove fast cars that resembled smudges of color as they
moved. My mother wanted me to date them. They didn't care about
me. They wanted what they wanted. My mother jealously hid, behind
a glass door in the lobby of our New York City apartment building,
watching me leave in an expensive car.

Please no more:
sounds near twitching trees like something dying
cobwebbed shadows whose symptoms include sudden
interrogations and night wakings
prayers without alternate colors or sky
outside noise rubbing inside noise rubbing body noise
rugged winters with their instructions for oblivion
time hidden in insects and water
This morning I watched a squirrel scrabble across a long telephone
line, quickly yet halting to assess its situation in the air. A blade of
grass forgets its place in a lawn because it's surrounded by so many
others and so much is happening around it. There are distractions
but what are these things replaced with?
When something is wrong with one part of my body I'm aware
of the rumor of the rest of it. I carry my own shadows. But I need to
see farther to places that are significant, Paris, Rome, Newfoundland,
Falkland Islands, Montana, New York, Tampa, Poland, New Zealand,
Galicia. My landmarks include: clouds like white hats atop Mt.
Rainier; the spidery Eiffel Tower; the parts of Mt. St. Helens that are
left; certain buildings in Seattle that remind me of a deodorant ball,
boxes, eyelids, or intestines; a white beach in Greece; a square and
cemetery in Prague; Gaudi in Spain; bird-like flowers in Hawaii; the
arterial water-filled canals of Venice; Golden Gardens beach park
and the old cobblestone parts of Ballard.
What I remember most: dead leaves nuzzling everything; diaphanous
artwork inside new museums; a boiler room, a city of pipes on
a navy ship; water rippling while someone is crying; a giant, outdoor
cowboy hat and boots; invisible patterns only seen on paper because
of fire or water; a room full of raindrops; geraniums in a row like a
red blindfold; the moon jumping from roof to roof; loitering seasons;
and the buildings I navigate by in Seattle, which keeps changing.
Often my mother unspooled me from my childhood/adolescent
sleep in the middle of the night with her chant, "Nobody loves me."
I would awaken, go into the sunken apartment living room and she
would talk while we watched Johnny Carson. Towards morning she
offered me one of her sleeping pills and I usually stayed awake after
I swallowed it, feeling a compelling tug and release of my conscious-
ness. She usually suggested I skip school, but I liked school. I discovered
I could sleepwalk through life.
My imaginary twin unobtrusively does what she wants, buoyantly
dreaming of a ship sailing to Cuba. Or disliking the paradox of a
happy room in which sad stories are written, she will transform it
into a library. She insults people who have insulted her. She shapes
her world to herself, to her desires, reshaping it as light fills a room
and is later gone, as though she drank a liquid world and it fit itself
within her body. She is unlike other people and they generally don't
like her, finding her raw and too wild.

The man stole necessary items, red apple pies, corroded jars of sun
tea, kitchen towels, cans of unfathomable meat or alphabet soup
which entertained him with its letters. He weaved through shedding
trees in his shabby clothes to the miniscule lawns and insufficient,
flimsy houses. He lived under a small bridge connecting land slung
onto each side of a river the color of old dried peas and the shape
of a tongue. He ran back to his box of toothpaste, his toothbrush,
comb, powder, a frayed blanket, a shirt, underwear tucked behind a
rock. But it was gone. His hair whipped his head as it spun around
in the waning light. He saw the other man picking at his teeth with
an Army knife, listening to a worn radio by the dirty water near his
box. The man unsheathed his knife. He rushed toward the man who
stood and stared at him as if he was something from another world.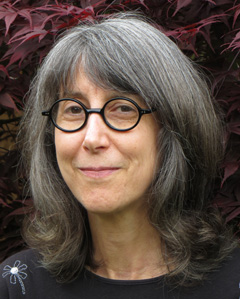 Laurie Blauner is the author of four novels, most recently The Solace
of Monsters (Leapfrog Press). Her work has appeared in The New
Republic, The Nation, The Georgia Review, American Poetry Review,
Mississippi Review, The Best Small Fictions 2016, and many other
magazines. She lives in Seattle, WA.