THE VIOLENCE ALMANAC, by Miah Jeffra
(2021, Black Lawrence Press, New York, NY, 180 pages, $19.95, 978-1-62557-836-5)
Reviewed by Derek Berry
The Violence Almanac Centers An American Obsession with Brutality
The Violence Almanac, a short story collection by Miah Jeffra reflects not just the roots of violence but also American obsession with violence. Part true crime chronicle through a funhouse mirror of ever-more-removed perspectives, part map of headline-gruesome cruelties, The Violence Almanac probes the personal, impersonal, and systematic violence of the American west coast. Jeffra achieves this with a ventriloquist's gift of voice, a playful attention to form, and an underlying humanity that refuses to sensationalize horrible acts. Much like the Old Farmer's Almanac records weather and star patterns, Miah Jeffra's collection charts blood splatter in crimson-soaked prose.
Jeffra proclaims in his forward, "There are people growling everywhere… these warnings of our immense power; how often, open-wide, we echo in need." What follows is a chorus of growls. Andrea Yates drowns her children in a tub, and a biographer grapples with how to write about this modern-day Medea, how to write too about the ways her crime was originally framed. A young trans prostitute dreams of a better life after the murder of her best friend. A young boy, crushing on the new girl, confronts the violent breakdown of the girl's father. A young couple, sent mysterious clips of two young men, grow desperate to decipher the meaning of the trivial and sometimes grim scenes they're witnessing. An abused boy seeks to make himself a hero after discovering a runaway fugitive in the woods.
……………Violence bridges these stories. This provides cohesion to the collection but also creates, early on, a kind of expectation; one reads these stories with anticipation of sudden blood. Jeffra avoids, however, the pitfalls of monotony by exploring in later stories the reverberations of these moments. Violence is not contained to the act. Miah Jeffra's work is most potent not when they focus on the brutality of the violent moment but rather the gaze of the onlooker upon violence, the onlooking of the neighbor, of the stranger, of the legal system, of the media, of the story's teller, of the story's reader.
In "Babies," Andrea Yates drowns her children, but the murder— that intimate and unnerving ceremony— is not the only focus of the story. Jeffra instead takes a step back and distances the reader from the event, asks the reader to consider the biographer who is writing this story— how the biographer sets the scene, what details she includes and leaves out, what themes she coaxes to the surface, what meaning she imbues in the scene. She asks whether Andrea is a "Religious fanatic? Exhausted mother?" How does she write this forbidden story, "an act so forbidden even her writer self would never indulge on the page," for the "craving audience?" The story continues to unravel, telling the events of the drowning from the point of view of the husband. A legal argument concerning Andrea Yates' sanity is presented. The biography is adapted into a made-for-TV film that further separates the observer from the act, that further creates a chasm between the humanity of the victims and perpetrator and the gaze. The audience is "ashamed of their own recurring fascination with this woman who murdered her five children." These questions, first raised through this complicated nesting doll of narratives, persist throughout The Violence Almanac. In writing this story, the biographer is implicated; in telling the biographer's story, Miah Jeffra is implicated; by reading this story, the reader too is implicated. What does it mean to experience violence, even if only indirectly?
Violence in these stories is not simply the personal or psychological choice of an individual. It is a product of history, a product of a system of abuses. The narrator in the "Afterword" explains, "Structures—big things—are making me panic lately. Large, beyond-the-size-of-human things that we dwell in, that we swarm inside, that we rely on to stay intact. Made by us." These structures Jeffra describes are not only bridges close to collapse but also the legal, moral, and cultural systems in which Americans live. In the story "Jingle-Jingle Pop," the trans sex worker Lalo cannot escape the Boulevard where she works no matter how much money she saves. Omar, a young boy infatuated with a girl in the story "Eye Wall," cannot avoid the violent rampage of the girl's father, who himself flails to reassert control on his unraveling life, each on a fateful collision course with the other. Expectations of masculinity often dictate violence as well, as is the case for the young Corey of "Footfall," when he chooses to pretend to have murdered a runaway fugitive, dreaming of becoming a hero to his hometown. In other stories, such as "Gethsemane," the engine of violence is gentrification, "a gourmet coffee shop opened in an old auto-body garage… the value of this property will only increase." In this story, a realtor tries hard to sell a house with a dark past, breezily relating the details of the crimes and accidents alongside descriptions of the master bedroom, staircase, and surrounding neighborhood. In stories like this, Jeffra uses the full effect of innovative form to create a tension between American violence and our attention toward American violence.
The Violence Almanac is both a deeply unsettling and insightful book. The prose ranges from lyrical to matter of fact, intimately psychological to cooly distant, Miah Jeffra flourishing a chameleon's grasp of style. They dare: look closely, you too are a part of this bloodied history, you too a statistic in the book of numbers, you too prey and proponent of this uniquely American song.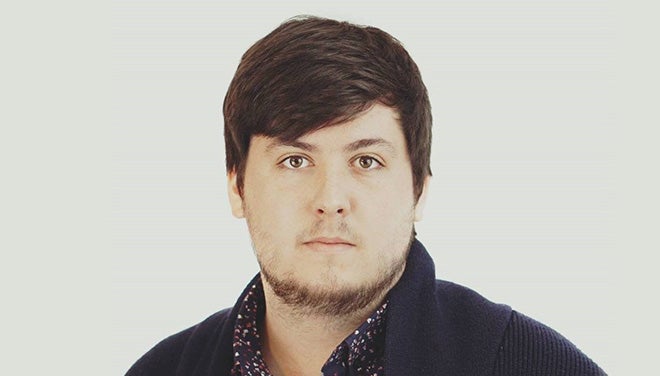 Derek Berry is the author of the novel "Heathens & Liars of Lickskillet County" (PRA, 2016). They are the recipient of the Emrys Poetry Prize, KAKALAK Poetry Award, & Broad River Prize for Prose. Their recent work has appeared in Gigantic Sequins, Beloit Poetry Journal, Yemassee, Taco Bell Quarterly, & elsewhere. They live in Aiken, South Carolina, where they work at a Cold War Historic Curation Facility. Their work can be found at derekberrywriter.com
Miah Jeffra is a writer, artist, curator and educator, currently living in San Francisco. A military brat, Jeffra moved throughout their childhood, but most identifies the South as home.
They spent their high school years in Baltimore, and then moved to Atlanta, where they studied English, Music and Theatre at Oglethorpe University.
Miah later studied in the MFA Critical Studies program at the California Institute of the Arts and the MA program in English at San Francisco State University. Jeffra teaches Writing, Drama, Anti-Racist and Cultural Studies at Santa Clara University, and is Founding Editor and Production Designer for queer literary collaborative, Foglifter Press.
Jeffra finds interest in community-centered arts and discourse and chooses to maintain a multi-disciplinary studio practice for its collaborative possibilities. The subjects of their work range from psycho-geography, urban studies and class to gender structures and whiteness as oppressive construct. Influences include Augusto Boal, bell hooks, Anna Deavere Smith, Richard Rodriguez, Mieke Bal, Peter Brook, Felix Gonzalez-Torres, Angela Davis, Richard Schechner, James Baldwin, David Wojnarowicz, Shigenori Nagatomo, Judith Butler, Michael Cunningham, Toni Morrison, Adrian Piper, Colum McCann, Olafur Eliasson, Yuasa Yasuo, Guy Debord and the Situationists, Whoopi Goldberg, Joe Goode, several West African dance forms, and other artists/writers who emphasize process in their work.